A bit about us...
The name "Paratus" came from a black leopard which was the mascot for 1st Armoured Regiment within the Armoured Corps of the Australian Army..... Derek has spent the past 34+ years of his life serving in the Australian Defence Force as a member of the Armoured Corps and 1st Armoured Regiment (1AR).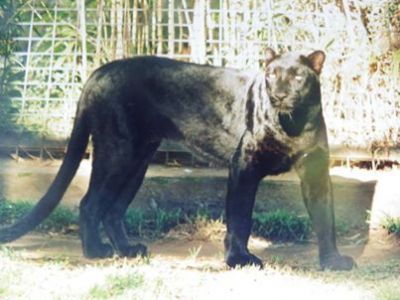 Photo of Corporal Paratus (1984) at Puckapunyal Military Base, now retired at Melbourne Zoo
This beautiful big black leopard named Paratus (Trooper Paratus, then promoted to Corporal Paratus) was the mascot for many years of Derek's military career. Corporal Paratus is now retired and lives the life of luxury with his devoted keepers at Melbourne Zoo. The word "Paratus" is Latin and it means "always prepared" or "always ready". We felt the name suited our personal history as well as our Rottweiler world.
We have four children (all young adults now) spread around Australia. They all grew up surrounded by animals of some sort but mostly horses and dogs.
Michele's very first dog was an 8-week-old black Labrador named "Tracy". Tracy was a Christmas present to Michele from her Grandparents when she was just 5 years old. Tracy was put inside a big shoe box then wrapped in Christmas paper and poked with holes, a red ribbon tied around it and placed under the Christmas tree just minutes before Michele was allowed into the room on Christmas morning. No other Xmas present mattered that year. Tracy & Michele grew up together, went everywhere together and were known as a duo for the next 13 years. Sadly, Tracy had an accident on the farm and contracted pneumonia, this took her life at just 13 years of age - R.I.P my beautiful forever girl xx.
In 1988 Michele's Dad brought two stunning Rottweiler puppies from a breeder in Victoria, Casper & Heidi (litter mates). These two dogs began our love for the Rottweiler breed all those years ago and this is when our research and interest led us to a breeder in NSW where we waited patiently, almost 2 years for the right puppy, which never came.
In early 1992 while living in northern Victoria we decided to rescue our very first Rottweiler, a 9-month-old bitch named "Tessa". Her current owner had to move into emergency accommodation due to unforeseen circumstances. We had contacted her breeder some six months earlier and left our number. The breeder called and asked us if we would be interested in this girl, we saw her and the rest is history.
We enjoyed over 10 wonderful years with this gorgeous soul. She was the backbone and encouragement to developing such love and devotion of the Rottweiler breed and it is because of her that we love the breed for what it is today. We moved her around the country and she adapted quickly with no complaints every time. Sadly, she contracted cancer at 10 years of age and lived with it until she had a stroke at 11 years 4 months old. Derek was away overseas on a tour of duty at the time so Michele sat with Tessa for several hours after her stroke until Tessa took her last breath at 1.15am. This was a very very upsetting day for all members of our family and sadly Derek & Tessa never got the chance to say goodbye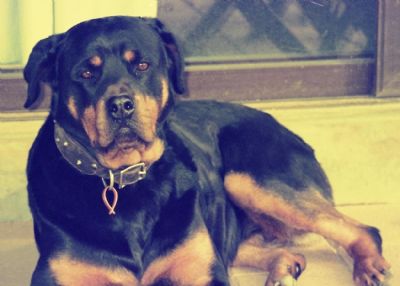 Tessa - aged 6 years in this photo
We were not interested in any sort of showing, trialling or other registered dog sport back then therefore, we didn't take much notice of her pedigree papers or the NSW breeder from which she came from. We got her on the 27th Feb 1992, the day our daughter was born. What a handful, a new 9-month-old puppy and a new human baby all on the same day. The baby (Courtney) & Tessa were inseparable from the day they met.
A little story about our two girls…...One day Courtney & Tessa decided to go walkabout. Tessa was 23 months old and Courtney was just 14 months old, the two of them got through two heavy doors and a gate then walked down the footpath alongside a busy main road…the old Hume Highway! Derek & Michele had one of the motels in town and Michele's dad owned one of the local hotels about 300 metres down the road. Luckily, we were a close-knit community and all the business people knew each other. We found out later from some of the business people who saw the two strolling by, that Tessa was walking between Courtney and the road all the way while staying right beside her until they reached Grandads pub. People were reluctant to go between dog and child so just ensured from a distance that the duo got to their destination safe and sound. Needless to say when Michele got that phone call from her Dad to say he had a couple of visitors and asked if we were missing a daughter and a Rottweiler she went straight into panic mode and ran down to the pub only to find Courtney sitting on the step at the bottle shop with a packet of chips and Tessa lying right beside her feet with a bowl of water and the odd chip thrown her way.
We have owned Rottweilers ever since our Tessa girl came to us, along with German Shepherd dogs. Our last German Shepherd was a lovely boy from breeders in the Northern Territory. His name was Pastoralman Oso, we called him Oso. Sadly, Oso was PTS in July 2009 after a couple of small strokes and with crippling arthritis in his hips, aged 8 years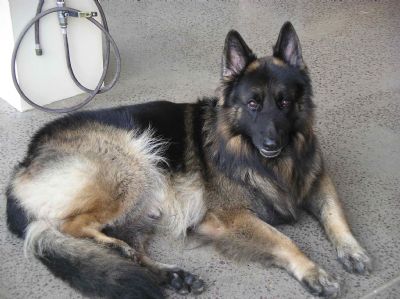 Oso - aged 5 years in this photo