Our breeding practice & tips choosing a breeder...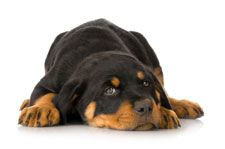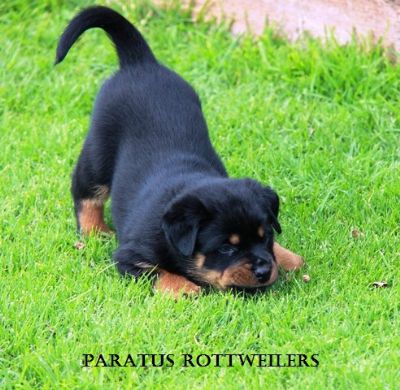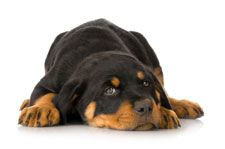 Our Breeding Practice
We will only breed on a very limited basis, usually when we would like a new puppy ourselves.
We put a lot of time and research into the selection of suitable parents, to ensure that we continue the hard work of long time breeders. This ensures that we both (us as breeders and the eventual owners) get the best puppy possible.

We are members of Dogs Victoria, Australian National Kennel Council, Rottweiler Club of Victoria Inc and the National Rottweiler Council (Australia)
We are Code of Ethics breeders, which means that we abide by the rules and regulations set by our clubs to breed for the betterment of the breed in Australia.
All breeding pairs we choose are health tested in accordance with these regulations. The health tests we complete on our own dogs include, but are not limited to, JLPP, Hip & Elbow X-Rays, Eye Certification, Dentition Certification & the National Rottweiler Council Australia NRCA reports on these results. In the case of an artificial insemination (AI) mating from an interstate or overseas sire, we ensure the sire is of sound health both physically & mentally. We do this by completing many hours of research and discussion with as many people who personally know the dog that we can talk with. We also obtain copies of all health tests pertaining to that dog and look for nothing less than "very good" to "excellent" in his results.
All puppies learn so much in their first 8 weeks of life so it is very important that we expose them to as many normal life experiences as we can pack in during their short stay with us.
Our puppies are born inside our home and brought up as part of our family. We don't believe in wrapping our puppies up in cotton wool therefore we subject them to common household noise, smells, regular handling and mental stimulation from DAY 1. We take them out in the car as often as possible which we believe has helped prevent motion sickness as older puppies and adults. Soon after their eyes are open and they are steady on their little paws, we stimulate them further with short periods of play-time outside. By the time the puppies go to their new forever home with you they will have experienced many places, noises, and smells, felt many different surfaces on their little paws like sand, gravel, water, mud, grass etc. They will also be eating a natural raw diet including whole chicken carcases, chicken wings and necks amoungst other things like grated vegetation, eggs, whole grains and fish.
All new owners are expected to continue this stimulating environment we have started them in and provide a safe, healthy and happy environment for your puppy's' continued healthy development.
All of our dogs regularly attend obedience training (even the oldies) and they enjoy this very much as it stimulates their brain. For the best companion, show or working dog in our community and your home we strongly recommend you enrol your puppy to attend obedience training for at least the first 24 months of their life or longer.
All puppies from Paratus Rottweilers are registered with Dogs Victoria, sold with full pedigree papers (main or limited) and a sales agreement which protects the puppy, you the buyer, and us the breeder. Puppies are all vet checked, micro-chipped, wormed, vaccinated (1st), well socialised & guaranteed against genetic faults which brand the dog unable to be shown.
****We cannot stress enough, Rottweilers do not suit every person and or lifestyle. Think very carefully and do your research with breeders & owners before you decide on this breed****
---
Our tips to help you choose a reputable & responsible breeder!!!
Your Research
Taking the time to choose a responsible and reputable Rottweiler breeder is a very important step when you are ready to add a Rottweiler puppy to your family!
A cute Rottweiler puppy grows up into a very strong & powerful medium to large dog. As magnificent as this breed is, a Rottweiler will not suit every person or family situation. We strongly recommend you speak with as many different breeders and Rottweiler owners as you can. We also recommend you research common health issues this breed may be prone to before you commit to purchasing a Rottweiler so that you make an educated decision.
Your new puppy is going to be a member of your family for many years to come, and if you want your relationship to be a long, happy and healthy one you have to start out on the right foot.
The information below is designed to help you avoid some of the most obvious pitfalls when choosing a puppy, and give you the best possible chance of finding the right Rottweiler breeder, and the best puppy for you.
Do NOT ask any breeder for a "docked" tail puppy as it is illegal to dock in all States & Territories in Australia. If you really want a docked puppy then import one from New Zealand or America as these countries are two of the very few left in the world who still dock within the boundaries of their law.
What Makes A 'Good' Rottweiler Breeder?
Along with many other breeds around the world, Rottweilers have been on a roller coaster in terms of popularity and not all dog breeders have had the best interests of their dogs, or the breed in general, at heart. As a result there are many Rottweilers out there who are not good representatives of the breed either physically or temperamentally.
Certain canine health issues such as hip and elbow dysplasia, eye, mouth and heart problems can be genetic and or environmental, as can emotional and temperament problems such as excessive fearfulness or aggression. Reputable Rottweiler breeders only breed dogs that are sound in health, body and mind AND pass all the necessary health screening tests set by our National Rottweiler Council of Australia NRC(A). That means that your chances of bringing home a happy healthy well-adjusted puppy that will grow up to be a happy well-adjusted adult, is much greater.
Rottweilers are considered medium to large strong & powerful dogs, therefore if you buy a large breed puppy you should know larger expenses will hitch a ride too. For example larger food costs, larger & stronger collars & leads, larger crates & bedding, larger doses of medication from your vet etc. If you own a puppy with serious or on-going health issues then your vet bills will be large in terms of cost. Obviously, not all illnesses are hereditary or due to poor breeding practices but many could be avoided by sound, ethical & knowledgeable breeding practices from good breeders.
We are of the opinion that Rottweiler breeders who are reputable, responsible and ethical are also members of a STATE ROTTWEILER CLUB and in most cases choose breeding dogs that are proven with working and or conformation titles. All breeders must be a member of their STATE CONTROLLING BODY (eg: Dogs Victoria) to be able to register their pedigree puppies but the code of ethics on breeding practices are much more strict and policed through the specific state Rottweiler Clubs and the National Rottweiler Council Australia (NRCA)
To help you along in your research for a good breeder here are some questions you can ask…
How long have you lived with Rottweilers?

How many do you own?

Are they all kept at your premises?

Do you belong to a Rottweiler Club? If so, which club & how long?

Do you supply lifetime support? If so, what sort of support?

Do you work your dogs at all?

Do you belong to an obedience club?

Do you show your dogs?

If you don't work or show them, what else do you do with them apart from breed them?

Why did you choose Rottweilers?
Obviously the relevant discussion will flow from this sort of questioning just as the questioning the breeder will do of you.
If a breeder does not show or work their dogs, you would want to ask them what they do do with their dogs apart from breeding. You probably wouldn't want to support a breeder who has dogs sitting in kennels doing nothing apart from pumping out litter after litter as this may be looked upon as puppy farming and there are plenty of them in every state of Australia. However a Rottweiler breeder whose dogs participate in conformation shows, sports such as agility or tracking, formal obedience or other similar activities are often a good choice as it shows that the breeder is proud of their dogs, and that they enjoy working with them.
We have included a link "on our links page" to all State Rottweiler clubs in Australia so that YOU can email the club secretary to confirm a particular breeder is a member of the club they claim to belong to.
There is no such thing as a 'bargain' puppy!
Buying a puppy from a reputable responsible & ethical Rottweiler breeder will more than likely cost more, maybe considerably more than buying a puppy from a backyard breeder, puppy farm or pet shop. This is because a reputable responsible & ethical Rottweiler breeder is breeding for the betterment of the breed and amongst many other things, will ensure they adhere to all the required code of ethics, regulations and health screening enforced by their clubs. Backyard breeders, puppy farms and pet shops are often more interested in the money they can make selling puppies, than they are in improving on any particular breed.
Reputable, ethical and responsible breeders do many things to ensure their breeding program is carried out in an appropriate manner. First & foremost they insure only sound quality & healthy dogs are used to breed, who have passed all the appropriate health screening tests set by their governing bodies. These breeders ensure they nourish their dogs' with premium quality food for optimum growth, vitality and overall wellbeing, they seek appropriate and immediate veterinary treatment when required, they worm & vaccinate when necessary, they have all their puppies checked by their vet at birth, they have all their puppies appropriately micro-chipped as required by law in Australia for all puppies.…and equally they love their animals unconditionally. All this along with the hundreds of hours & thousands of dollars spent training, showing, trialling, rearing puppies etc. far outweigh the income they get for the sold litter in the majority of cases. Many breeders will normally only breed when they want to keep a puppy or two themselves from their litter.
**Be aware of minimum breeding ages for Rottweilers, this differs in each state/territory in Australia. You can read your State Rottweiler Club code of ethics by clicking on the link of your state in our "links" page.
The reputable breeder will be able to show you the NRC(A) certificates relating to the health test results for both sire and dam. These will include as a minimum; eye certificate showing eyes as normal, mouth certificate showing correct number of teeth and correct scissor bite and hip & elbow scores. Make sure you check the names of the dogs on the paperwork coincide with the actual sire & dam of the litter and remember that the sire and dam hip score in Australia cannot be more than 20 combined. You should get copies of all health certificates for the sire & dam in your puppy pack.
Puppies need to be vaccinated at approx. 6 weeks of age and again at 12 & 16 weeks of age. The first vaccination will be done and paid for by the breeder. The breeder will be able to give you a certificate or invoice of your puppy's vaccination as proof it is done. Puppies need to be wormed but many breeders have differing opinions on when and how often. We prefer to worm every 2 weeks until 8 weeks of age then monthly after that. Ask your vet what he or she recommends when you take your puppy in for his 12 week vaccination
Do your research & ask the questions of yourself and breeders!
All puppies are adorable, cute and irresistible BUT they should NEVER NEVER be an impulse buy and long before you ever get your first whiff of 'puppy breath', you need to have done plenty of research on both breed and breeders.
Decide what you want and understand why you want a particular puppy.
Remembering that Rottweilers are first and foremost working dogs who love to be your companion and part of the family so ask yourself the following questions...
Do I have the appropriate home situation for a large breed dog?

If I'm renting, do I have written permission from my landlord to own a big dog?

Do I have the time to exercise, socialise, train and play with a dog?

Do I have good strong & secure fencing?

Do I have an appropriate sheltered area for my puppy / dog during the day?

Can I organise feeding my puppy 3 or 4 times a day until he/she is 12 weeks old at least?

Do I have a comfortable place with clean bedding where my puppy / dog can sleep at night?

Do I have the extra money to pay for unexpected vetinerary bills and general medical care?

What will I do with my best buddy when we go away on holidays?

What are my thoughts on de-sexing and what is the best age to de-sex my dog or bitch?

What will I do when my bitch comes into season?

Do I want to show my dog?

Do I want to work my dog to compete in herding, tracking or obedience trials...
Talk to as many Rottweiler breeders as you can during your research and visit local show & training grounds to talk with current Rottweiler owners about their dogs. Don't be swayed to go with a particular person's breeder without doing your research first. If a breeder brushes you off or won't answer your questions, then move on and find another. Don't be afraid to ask lots of questions but make sure they are relevant. A good Rottweiler breeder will actually expect questions from you and welcome them. Also don't be surprised if the breeder has questions for you and may even ask you to fill out a puppy application form and or questionnaire. They want their puppies to go to the best, permanent loving homes with people who understand and care about the breed - so you will need to pass their questioning as well.
Decided on a breeder, Great!
When you have found the breeder you would like to buy from and the breeder has agreed you will offer the sort of home they want for their puppies, ask if you can visit their kennel or premises to meet with them and their dogs. Any responsible Rottweiler breeder will be happy to show you around their kennels or premise, although due to infection concerns when the pups are very young, you may find there are limitations. Look at the conditions the dogs and puppies are living in as it should go without saying that the dogs themselves, should be clean and well taken care of.
Although Rottweilers should never be openly aggressive (without good reason) don't expect the adults to act like Labradors! They should be calm, and accept your presence without too much fuss, but won't necessarily be happy that a stranger is in their domain. However, many Rottweilers are very friendly and will greet you with excitement and a wagging tail, that is okay too. If you have young children that you wish to take with you when visiting a kennel, ask the breeder first to make sure it's okay for the little people to visit. The reason we say this is, many dogs have not grown up around little people therefore when the dog/s see these little people they are curious and sometime very rough thinking the child is a new toy. Also if your child is carrying a toy, this could end up the dogs toy so please do not allow your children to carry anything with them on the initial visit.
If you see signs of aggression or fearfulness in either the adults, or the puppies, it should ring some warning bells. Neither trait is desirable.
At this visit you can view all the health test results and pedigree papers for the sire & dam of your puppy.
Some of the Health issues in Rottweilers that you should be aware of.....
Hip Dysplasia is a common problem in Rottweilers, however due to diligent x-raying by responsible breeders we have managed to breed with much better hips in Australia. As I mentioned above the maximum hip score for the two parents combined is 20. An individual dog that has above 20 should never be breed from and any combined breeding pair above 20 should never be bred together. The sire & dam should both have their own certificates which clearly shows their pedigree names, their microchip number and their (L) & (R) hip scores – add these together for each dog then add the two dogs together to get a combined score below 20
Elbow Dysplasia can also be a problem in this breed. There is currently no cut off score for breeding in Australia but breeders do need to use common sense in this area. The sire & dams elbow score will be recorded on the same certificate as their hips (at the bottom of the page) the best score obtainable is: 0 / 0
Eye problems, typically Entropian and Ectropian are found in some Rottweilers, particularly those who possess very loose looking face skin or commonly called "a wet head". Entropian & Ectropian can be a genetic condition inherited from parents, grandparents, great grandparents or back further or it could be caused from an eye irritation or environmental. The sire & dam should both have a certificate each which states both eyes as normal.
Teeth problems commonly occur during puppy's teething time, when your pups baby teeth are falling out and his adult teeth are growing through. The most common problem at this time is your puppy's bite going undershot or overshot which is not normally an issue unless the puppy has been sold as a conformation show dog and in that case we want a correct scissor bite and correct number of teeth. The sire & dam should both have a certificate each which states correct scissor bite & correct number of teeth (42).
Cancer is often diagnosed in Rottweilers, so just be aware!!
And finally…..
Good luck in your search for your life long companion. Your research prior to purchasing your puppy is a very important step forward so make sure you spend the time before you spend your cash.
·

Do not fall into the trap of thinking that all the above is only necessary if you want a "show quality" puppy.

·

Do not accept a breeder's insistence that "I've never had any problems with hips" or "all my dogs are completely healthy, they don't need testing" or other similar comments.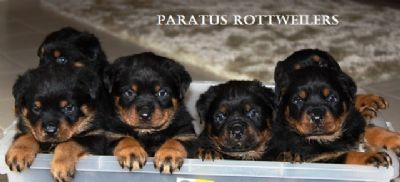 The best step to ensure that the puppy you are getting is healthy is to insist on sighting the health certificates of both sire & dam to prove the parents are in breeding condition. This by no means guarantees your puppy is healthy but it will show you that the breeders have taken appropriate steps to ensure the litter is physically sound.