Wanna know a bit more...
Black Beauty Breed Film
Turn your volume up and click on the picture...
---
Eye Colour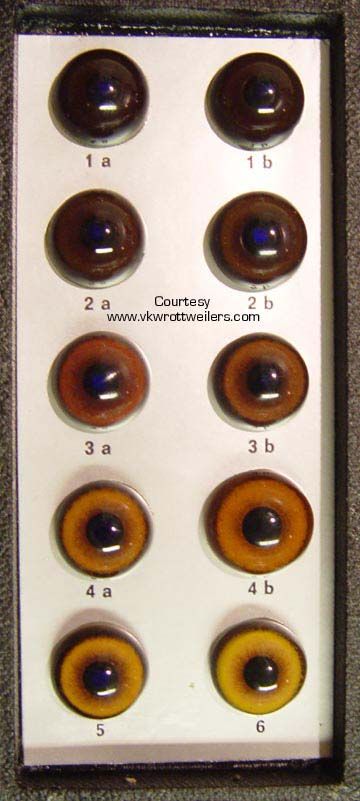 We are of the understanding that the ranges between 1a and 3b are acceptable and 4a through to 6 are considered faults in the conformation show ring.
---
Nail Clipping
For most Rottweilers, it is very important to clip the tips off his/her nails weekly.
When they are young puppies (under 6 months) you can use what we all use as toe nail clippers. As an older puppy over 6 months, you will need to use a good quality dog nail clipper. We personally do not use or like the guillotine types that are on the market, we use the scissor type for many reasons. As all Rottweilers have black nails you can not see the quick therefore with the scissor type, it is easier, quicker and more precise in our opinion. We have our clippers sharpened or we replace them every year or two depending on the quality to make sure they are sharp.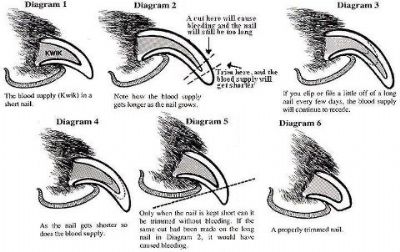 ---
Correct teeth showing upper & lower jaw Correct teeth from side on view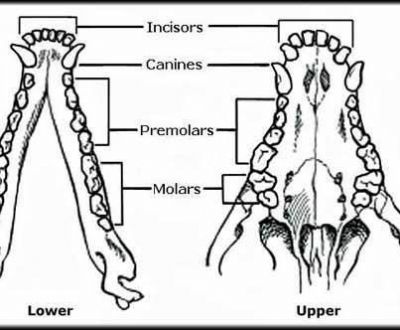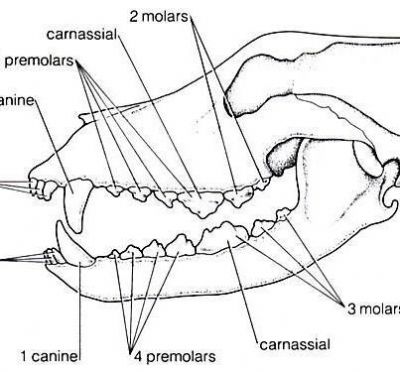 Correct scissor bite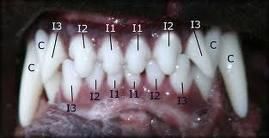 ---
Tail Carriage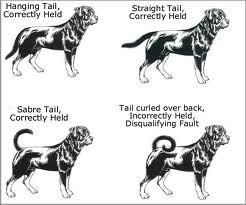 ---
Development Chart (Guide Only)
The growth charts below are approximate and should be referred to as a guide only.
AGE

Weight Augmentation

Weeks

Grams (gms)

Pounds (lbs)

0

380 – 450

0.8 – 1.0

1

650 – 900

1.4 – 2.0

2

900 – 1400

2.0 – 3.0

3

1300 – 1900

2.9 – 4.2

4

2100 – 2900

4.6 – 6.4

5

3000 – 4000

6.6 – 8.8

6

4000 – 5000

8.8 – 11.0
AGE

WEIGHT

Kilograms / Pounds

HEIGHT

Centimetres / Inches

CHEST/BREAST GIRTH

Centimetres / Inches

MONTHS

MALE

FEMALE

MALE

FEMALE

MALE

FEMALE

3

17 kg

37.5 lbs

14 kg

30.9 lbs

47 cm

18 ½"

48 cm

19"

--------

-------

-------

-------

4

23 kg

50.7 lbs

17 kg

37.5 lbs

51 cm

20"

51 cm

20"

66 cm

26"

66 cm

26"

5

31 kg

68.3 lbs

24 kg

53 lbs

56 cm

22"

56 cm

22"

76 cm

30"

76 cm

30"

6

35 kg

77.1 lbs

30 kg

66.1 lbs

60 cm

23 ½"

59 cm

23"

77 cm

30 ¼"

79 cm

31"

7

40 kg

88.1 lbs

34 kg

75 lbs

64 cm

25"

61 cm

24"

78 cm

31"

81 cm

32"

9

46 kg

101.4 lbs

36 kg

79.4 lbs

66 cm

26"

62 cm

24 ½"

86 cm

34"

83 cm

32 ½"

10

50kg

110.2 lbs

36 kg

79.4 lbs

67 cm

26 ½"

63 cm

25"

90 cm

35 ½"

83 cm

32 ½"

11

50 kg

110.2 lbs

38 kg

83.7 lbs

67 cm

26 ½"

63 cm

25"

90 cm

35 ¼"

84 cm

33"

13

50 kg

110.2 lbs

40 kg

88.1 lbs

67 cm

26 ½"

63 cm

25"

90 cm

35 ½"

85 cm

33 ½"