Astor x Kody
Echo / Kaity Litter whelped 18/01/2014
Our "E" litter has been fondly named as KAITY'S LITTER after a very dear young friend Kaitlyn Bennett. She was struggling with cancer and chemotherapy during the time of this planned litter so we decided it would be good if she had other things apart from her illness to think about!
We are stoked to announce that Kaity has now been classified officially as cancer free and she is now in remission.
This litter produced one beautiful, very strong singleton bitch puppy with a birth weight of 480gms. Kaity proudly took on the job of naming the puppy from her litter which was registered, Paratus Colossal Damage (AI) aka: Damage
PHOTOS BELOW IS THE SIRE: ASTOR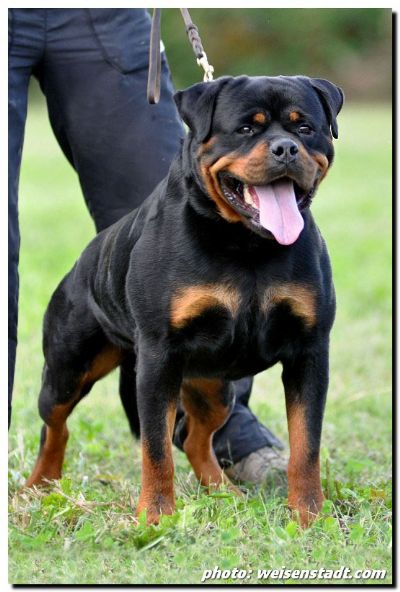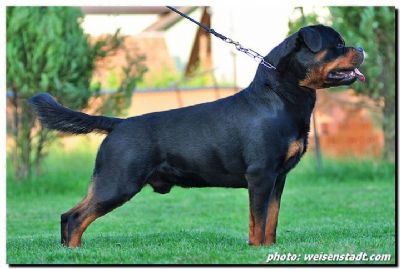 World Champion Astor Von Junipera
| | |
| --- | --- |
| HD - FREE | ED - FREE |
| HEIGHT 65cm | WEIGHT 55kg |
| EYE COLOUR 1B | MUZZLE 8.5cm |
| DNA PROFILED | HEART CLEAR |
| CIRCUIT CHEST PROPRTIONS 107cm | DOB: 28/07/2007 |
This exceptional male really needs no introduction. He is very well known by Rottweiler enthusiasts, owners and breeders around the world.
Turn up your volume and enjoy watching a short video of this stunning boy below...
X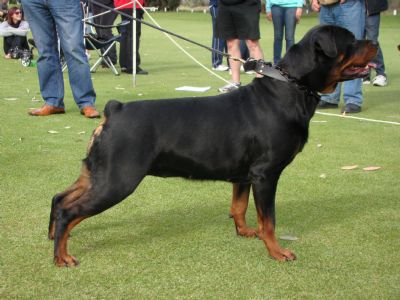 NRC(A) Ch. & Ch. Hustons Majestic Lady ET (Imp NZL)
Breed Survey - Passed
| | |
| --- | --- |
| HD 5:5 | ED 0:0 |
| HEIGHT 61cm | LENGTH 71cm |
| WEIGHT 42kg | EYE COLOUR 2B |
| DENTITION 42 & CORRECT SCISSOR BITE | MUZZLE 8.5cm |
Kody is a super typey bitch with attitude. She is proven in the Rottweiler Specialty Show ring with her highlighted placing's of RUISS at only 22 months old, eleven V ratings to date which includes multi V1 and multi V2 placing's all from a very limited specialty show career. She has placed well in the conformation show ring with numerous Best Of Breed (BOB), Challenge bitch, Reserve Challenge Bitch, Best In Group Class (BIGC) and Best in Show Class (BISC). She has proven herself to do what Rottweilers were breed to do, gaining her endurance title (20km) in 2010 just before she turned three years of age.
Kody loves to work and please her handler; she is a showy bitch who thoroughly enjoys the ring by showing herself off with a typical bitch style. She displays impressive qualities in her movement, drive, strength and stamina.
Kody is firm in reproducing many of her own strong qualities. She is the foundation of Paratus as we move forward into some exciting tims ahead...
LITTER PEDIGREE
S: World Ch. Astor Von Junipera GER. BH. IPO1. (SRB)
S: Waro Von Hause Sommer (SRB)
S: GER Ch. Balou Vom Siberblick SchH3 GER FH-1 (DEU)
S:
D
D: Abby Von Hause Sommer (SRB)
S
D
D: Volga Od Dragicevica (SRB)
S: YUG Ch. YUG YR Ch. Odo Od Dragicevica (SRB)
S
D
D: Hajdi Od Dragicevica (SRB)
S
D
D: NRCA Ch. & Ch. Hustons Majestic Lady ET (Imp NZL)
S: NZL Ch. Sahne Bruin Up A Storm (NZL)
S: NZL GRD Ch. & Ch. Wanderer of Kauriland (Imp NZL)
S
D
D: Sahne Pretzel V Bronx (NZL)
S
D
D: Hustons Summer Breeze (NZL)
S: NZL Ch. Biekenhof Gremlin (NZL)
S
D
D: Blakkenbraun's First Lady (NZL)
S
D
Thank you to the owners of Astor, Lidija and Vlado Zec of Alten Festung Rottweilers, for allowing us to use semen from this super boy.
**********************************************************************************
We at Paratus, are members of the Rottweiler Club of Victoria, Dogs Victoria, Australian National Kennel Council and our National Rottweiler Council of Australia (NRC(A)). We will breed to the strict Code of Ethics set by these clubs in accordance with best breeding practices. We will only breed dogs who comply with the NRC(A) hereditary disease screening requirements which includes, but not limited to, acceptable hip & elbow x-rays/scores, passes on eye & mouth certificates and also sound in mind (temperament).