Puppies... how, what, when...
...always learning more about your puppy/dog!
This page is a work in progress and will be added to as we get the time so please check back often.....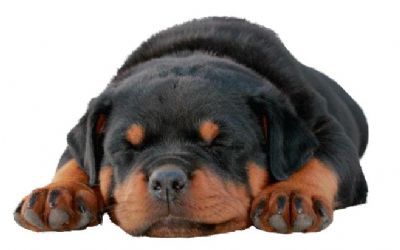 We are a small proud kennel searching outside the square to develop our own successful blood line.
We are ethical breeders who abide by the strict breeding COE set by our Rottweiler Club (RCSA) and NRC(A).
Our dogs health and wellbeing will ALWAYS be our number one priority.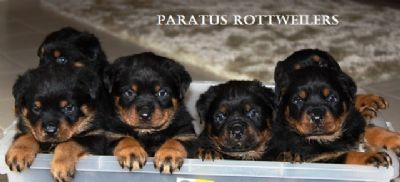 We continue to receive questions from people in regards to certain puppy behaviour and whether this is normal behaviour or perhaps it's boredom. On this page we will try to answer many of your questions and add interesting links to video and articles which will enhance our belief of these processes, issues and training methods. The majority of the methods have been tried and tested by ourselves or close breeder friends OR they have been advised to us by qualified trainers.
Please take note that these are our opinions from our experiences only and not necessarily those of other breeders.
---
Taping Your Rottweiler Puppies Ears
Ears of Rottweiler puppies sometimes need a hand to set correctly. Some puppies ears stick out (like they are flying) instead of sitting correctly which is close to their face. While the ears are very soft and velvety we can help correct these "flying" ears by taping them. This does not hurt the puppy, it just looks funny, as if they have two piggy tails.

Watch the video below by clicking on the picture before you attempt this for the first time.

When ears are taped, leave the tape on for 5 to 7 days then very gently remove taking care as puppy ears can be torn easily. Leave off for a day to see how the ears are sitting. If still "flying" tape again and leave for another 7 days.

Puppies ears can appear "flying" up until 7 or 8 months old due to teething with new adult teeth moving under the gum and coming through. So be prepared to potentially tape ears until teething is complete to help ensure your puppy has correct ear set as an adult Rottweiler. Feel free to contact us should you have any questions and we will endeavour to help you.
Instruction via video showing one of the best ways to tape ears, click on the photo below...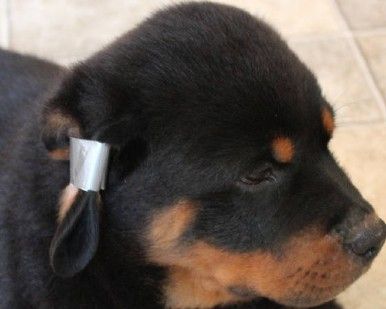 A sincere thank you to Rosann Bentley from Von Der Musikstadt Rottweilers in Nashville, Tennessee for allowing us to publically share her instructional video and photo of her beautiful puppy. This video helps correct the ear set of all our Rottweiler friends worldwide.
---
Walking your puppy on a Lead...
borrowed from Greencross Vets
Click on this link, Puppy Walk to learn how to teach your puppy to walk nicely on a lead.
---
I AM YOUR PUPPY
I am your Puppy, and I will love you until the end of the Earth, but
please know a few things about me.
I am a Puppy, this means that my intelligence and capacity for learning
are the same as an 8-month-old child. I am a Puppy; I will chew
EVERYTHING I can get my teeth on. This is how I explore and learn about
the world. Even HUMAN children put things in their mouths. It's up to
you to guide me to what is mine to chew and what is not.
I am a Puppy; I cannot hold my bladder for longer than 1 - 2 hours. I
cannot "feel" that I need to poop until it is actually beginning to come
out. I cannot vocalize nor tell you that I need to go, and I cannot
have "bladder and bowel control" until 6 - 9 months. Do not punish me
if you have not let me out for 3 hours and I tinkle. It is your
fault. As a Puppy, it is wise to remember that I NEED to go potty
after: Eating, Sleeping, playing, Drinking and around every 2 - 3 hours
in addition. If you want me to sleep through the night, then do not
give me water after 7 or 8 p.m. A crate will help me learn to
housebreak easier, and will avoid you being mad at me. I am a Puppy,
accidents WILL happen, please be patient with me! In time I will learn.
I am a Puppy, I like to play. I will run around, and chase imaginary
monsters, and chase your feet and your toes and 'attack' you, and chase
fuzzballs, other pets, and small kids. It is play; it's what I do. Do
not be mad at me or expect me to be sedate, mellow and sleep all day.
If my high energy level is too much for you, maybe you could consider an
older rescue from a shelter or Rescue group. My play is beneficial, use
your wisdom to guide me in my play with appropriate toys, and activities
like chasing a rolling ball, or gentle tug games, or plenty of chew toys
for me. If I nip you too hard, talk to me in "dog talk", by giving a
loud YELP, I will usually get the message, as this is how dogs
communicate with one another. If I get too rough, simply ignore me for
a few moments, or put me in my crate with an appropriate chew toy.
I am a Puppy; hopefully you would not yell, hit, strike, kick or beat a
6-month-old human infant, so please do not do the same to me. I am
delicate, and also very impressionable. If you treat me harshly now, I
will grow up learning to fear being hit, spanked, kicked or beat.
Instead, please guide me with encouragement and wisdom. For instance,
if I am chewing something wrong, say, "No chew!" and hand me a toy I CAN
chew. Better yet, pick up ANYTHING that you do not want me to get
into. I can't tell the difference between your old sock and your new
sock, or an old sneaker and your $200 Nikes.
I am a Puppy, and I am a creature with feelings and drives much like
your own, but yet also very different. Although I am NOT a human in a
dog suit, neither am I an unfeeling robot who can instantly obey your
every whim. I truly DO want to please you, and be a part of your
family, and your life. You got me (I hope) because you want a loving
partner and companion, so do not relegate me to the backyard when I get
bigger, do not judge me harshly but instead mold me with gentleness and
guidelines and training into the kind of family member you want me to
be.
I am a Puppy and I am not perfect, and I know you are not perfect
either. I love you anyway. So please, learn all you can about
training, and puppy behaviors and caring for me from your Veterinarian,
books on dog care and even researching on the computer! Learn about my
particular breed and it's "characteristics", it will give you
understanding and insight into WHY I do all the things I do. Please
teach me with love, patience, the right way to behave and socialize me
with training in a puppy class or obedience class, we will BOTH have a
lot of un together.
I am a Puppy and I want more than anything to love you, to be with you,
and to please you. Won't you please take time to understand how I
work? We are the same you and I, in that we both feel hunger, pain,
thirst, discomfort, fear, but yet we are also very different and must
work to understand one another's language, body signals, wants and
needs. Some day I will be a handsome dog, hopefully one you can be
proud of and one that you will love as much as I love you.
Love,
Your Puppy
May be posted, reposted, cross-posted and used with permission as long
as credit is given. Copyright 2000, by J. Ellis - Southern Shadows Rottweilers.
---
"Please click on any of the logos on this page as they are links to the clubs we are members of"
We are continued & current members of Dogs Victoria, Rottweiler Club South Australia (RCSA) affiliated with the National Rottweiler Council of Australia (NRCA) and the Australian National Kennel Club (ANKC)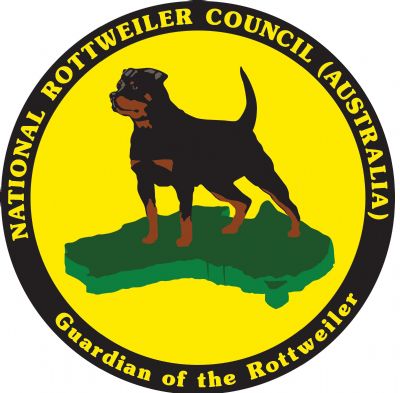 ---
ALL PARATUS PUPPIES
All Paratus puppies are registered and sold with pedigree papers.
All Paratus puppies sold as POTENTIAL SHOW & BREEDING prospects are sold on the MAIN register and on CONTRACT, primarily to protect our lines in the future.
All Paratus puppies that are sold as a COMPANION PET are sold on the LIMITED register, which means no showing OR breeding but they can compete in all working trials and love you to death.
All Paratus puppies come to you vet checked, rear dew claws removed (if there are any) and with tails
All Paratus puppies will receive their 6 week C3 or C4 vaccination at approx. 6 weeks' old
All Paratus puppies are wormed at 2, 4, 6 & 8 weeks of age. Next worming is due at 12 weeks of age which we will supply for your puppy.
All Paratus puppies are micro-chipped at approx. 6 weeks' old
All Paratus puppies commence sensory challenges from birth and are very well socialised by the time they go home with you
All Paratus puppies come with an extensive puppy pack which includes the pedigree of your puppy, pedigree of his or her parents, copies of all health test results for his or her parents, comprehensive diet sheet, food choices and recommendations, socialisation and fear periods, poisons in the garden, toy, next worming tablet, vaccination card, and much more...
Paratus kennels offer all our puppy buyers lifetime support 24/7
All Paratus puppies leave us with a 3 year inherited health guarantee in line with the Victorian Governmant legislation 2019
We will only consider and select homes for our puppies where we believe you will adhere to the continuation of raising socially acceptable Rottweilers

---

Last but by no means least… TRAINING!!!! This is very important to us as it is to your Paratus puppy (male or female) who is going to be big and very very strong……

We strongly recommend obedience training for your Rottweiler puppy every week with a qualified trainer, for at least the first two years of his or her life. Rottweilers need to be active in their brain therefore you must commit to doing this training or you will end up with a very strong untrained dog that you can't do much with outside of his home. We do not want an unsociable Paratus dog in the community so please realise this ongoing commitment we expect from our puppy homes BEFORE coming to Paratus for your puppy.
"All three photos below are Paratus babies & all from different litters"