Battle Litter
Our Battle litter whelped 16/08/2011
(7 dogs & 5 bitches)
Sire: Von Zennith Adolf Dam: Aust CH. Hustons Majestic Lady E.T (Imp NZ)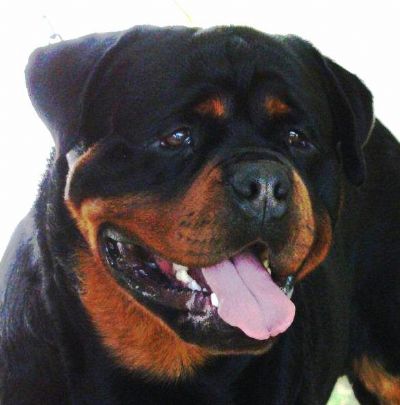 X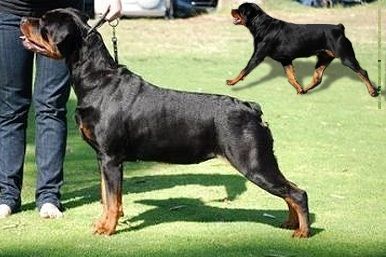 Really looking forward to this combination and improvement on our already very good type, Hustons Majestic Lady. We are looking to improve on bone, a little more subdued in temperament, ear set, overall substance and richness of markings. We are hoping to keep her superb overall movement, proportioned compact body, topline and great angulations.
Von Vennith Adolf (aka: Benson) has a super friendly temperament who is so happy to please his handler at all times. He is a smootchy boy who loves being with his human family. Some would call him "bullet proof".
Hustons Majestic Lady (aka: Kody) is a friendly girl with a very lively and protective attitude which is what one would expect from an excellent example of a female Rottweiler.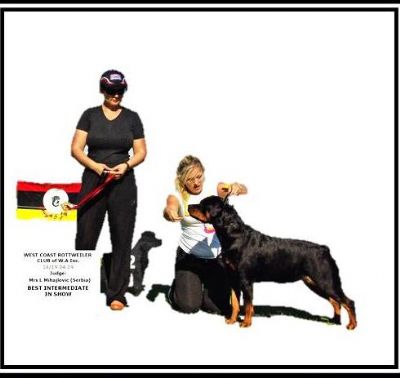 Kody winning her first V1 in Intermediate class under breed specialist Mrs Lydia Mihajlovic of Crni Lotos Kennels, Serbia.
Handling Kody to this victory was Carrie Kiely, we thank Carrie very much for her expertise in the ring.
From this breeding combination, we expect this litter to produce first class quality Rottweilers with potential as companion pet, work or show. Both parents of this litter have been health tested and comply with the National Rottweiler Council of Australia hereditary disease screening requirements.
********************************
*** Click on each photo below to view larger
***